Release - Nextcloud Hub 22
On 6. July 2021 Nextcloud Hub 22 was released and introduced via a Live Stream event. During the session, the Nextcloud team demonstrated and explained some of the new features. Let's have a look, what's new and what has improved!
Announcement
Nextcloud Hub 22 was announced and presented in a Livestream, which is now available on YouTube.
Improvements
With Nextcloud Hub 22 you will get some new features and improved functionality. In this section, we will have a look at these.
Collectives
One of the most interesting features, for me, is the addition of a knowledge base application. It is basically like a simple Wiki'ish tool, that allows to create and share pages with the team.
This comes in very handy, if you want to provide common knowledge about processes in your company or project, but also can be used to structure your own knowledge.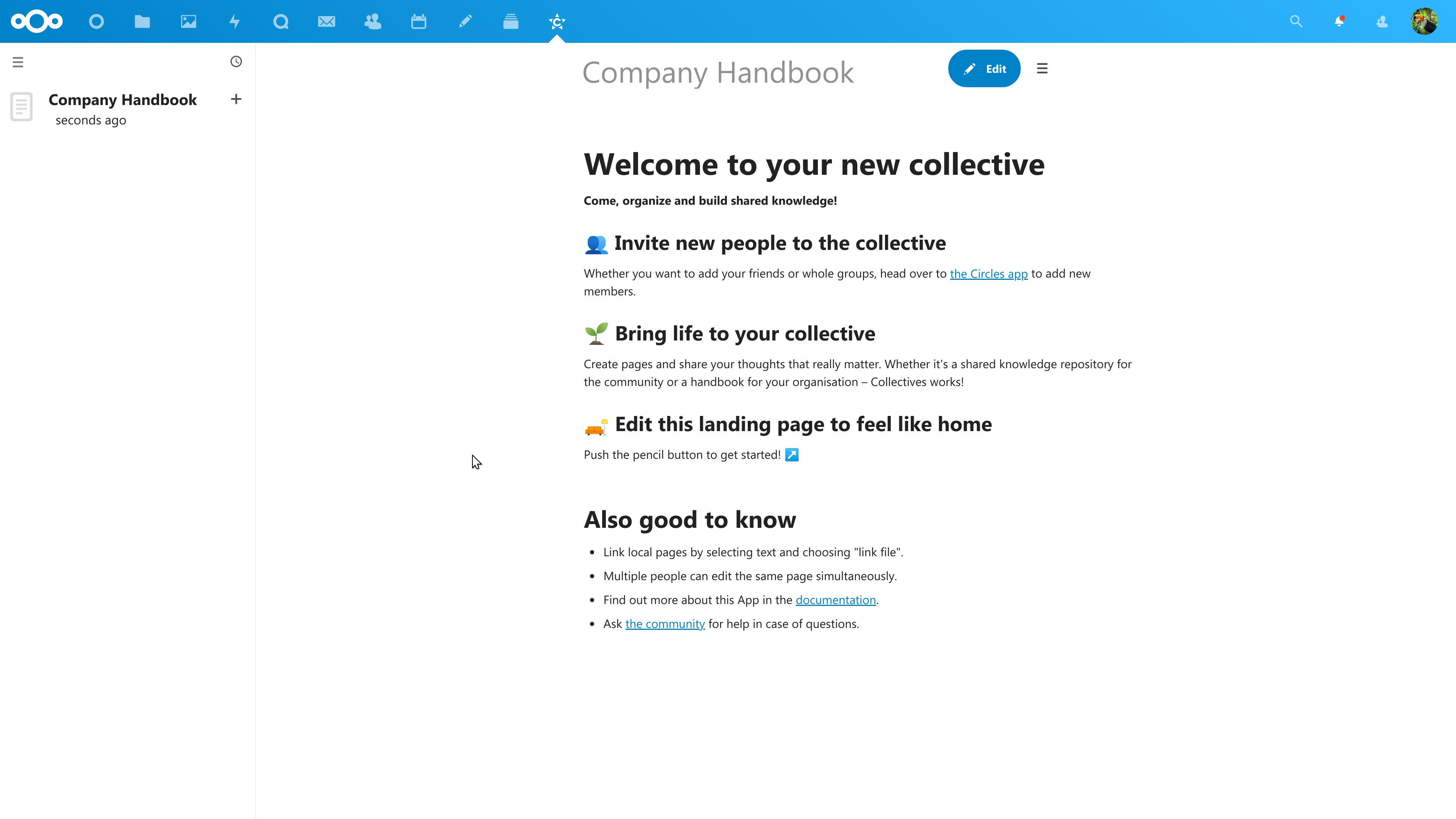 The application is integrating with the Text Editor (and basically works the same way) and can integrate with another new feature, namely "Custom Circles Groups".
The new Collectives application is explained in a separate Nextcloud article in details.
Custom Circles Groups
Circles is getting more attention with the latest releases. You can think of a personal group management. You can organize users in groups and use these groups to share content. Depending on your needs, you can create personal, public or private circles.
Deck + Talk
The Deck Application is already pretty awesome on its own and provides a cool task management application in a Kanban-Style. With Nextcloud Hub 22 you will be able to create new Deck Tasks/Cards from within Talk and share them back in a Talk chat.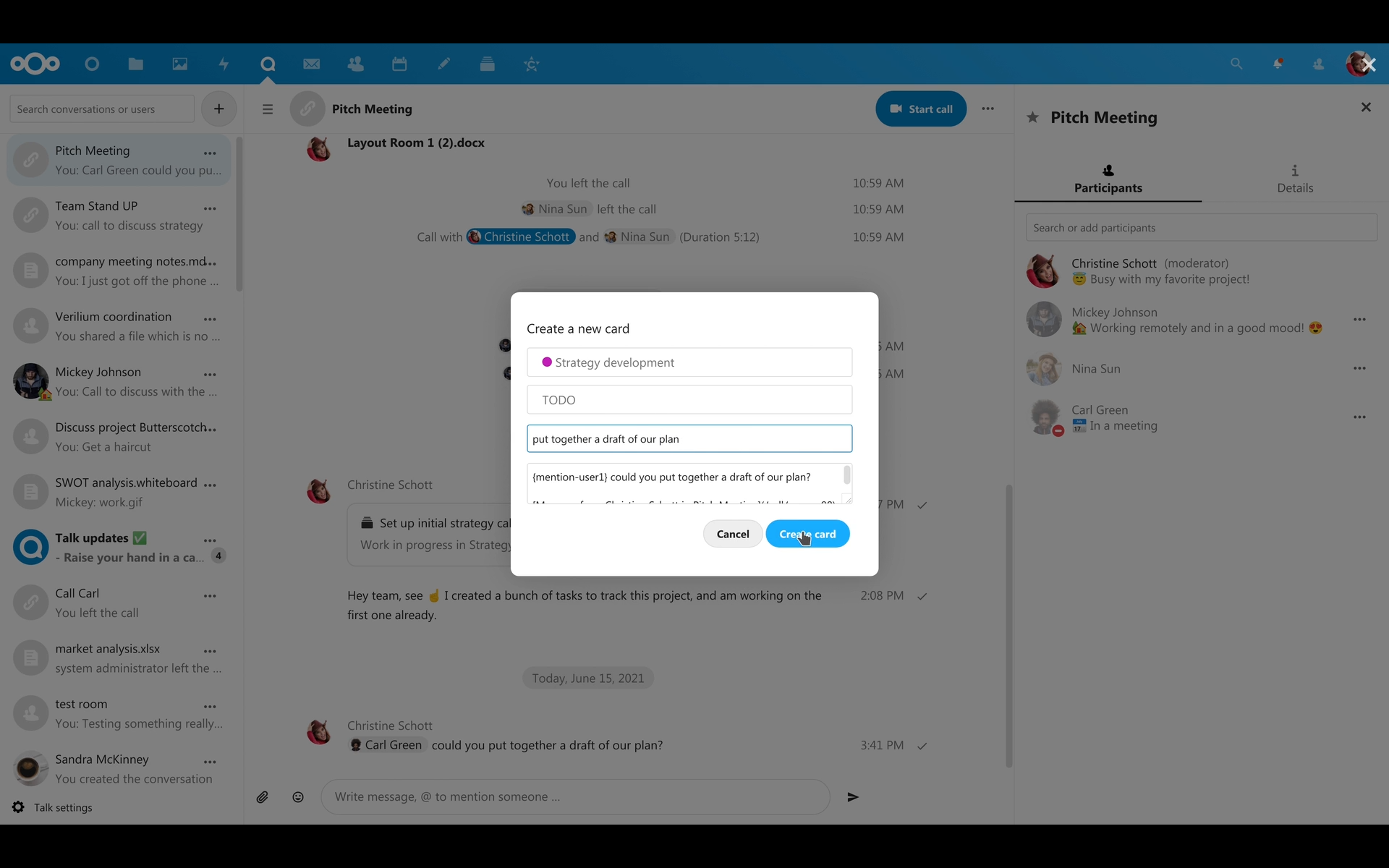 This also extends some already existing functionality, like due dates being shown in the calendar application.
Approval Flow
With Nextcloud Hub 22 you can define new approval workflows. This allows to request certain approvals from a defined manager and approve/deny it.
Document Signing
Nextcloud is supporting document signing with an electronic signature now. I haven't tested this feature and the integration via eID easy. The Nextcloud team provides more information in this article.
Getting it
Nextcloud Hub 22 is available right now. You can download it from the official website or test it via Docker/Podman with the below command.
# Run via Podman
$ podman run -dt -p 8080:80 docker.io/library/nextcloud:22

# Run via Docker
$ docker run -dt -p 8080:80 docker.io/library/nextcloud:22
If you want to upgrade your running Nextcloud Hub 21 instance, you may need to wait a bit. The Nextcloud team is making the updates available in batches. This will ensure that not all instances will upgrade immediately and run into issues. Furthermore, most likely you will see the upgrade with the first patch release and not right now.
Docs & Links
The Nextcloud team always provides a lot of articles and documentation for new releases. The below links will provide additional information about the changes, including videos demonstrating the new features. Conclusion
Nextcloud Hub 22 is not a huge release as Nextcloud Hub 21. Nevertheless, it enhances the Workflow in Nextcloud and the new Collectives App will come in handy, too.